Hits Master Bluetooth v3.0 Headphone
Model : BH-860R
Hits Master - Bluetooth v3.0 Stereo Headphone with aptX technology! Unleash the Wire! You can now walk, jump, or dance to your favorite music without the hassle of wire. Hits Master Bluetooth v3.0 Stereo headset powered by CSR Bluetooth IC and incorporates aptX Technology! Apt-X works within Bluetooth to deliver CD quality audio, ensuring you are getting the most from your wireless listening experience. All together, it creates CD quality music over Bluetooth, outstanding audio quality, and professional grade sound. Mixed with our Hits Master Bluetooth v3.0, you get a powerful bass,high clarity treble, stunning sound, and superior comfort headphone! Its HD voice ready so you can switch between listening to music and picking up calls with a click on the built-in remote button! For more Information on CSR & AptX, please go to http:www.aptx.com
Product Dimension:

Extend Maximum Dimension: 5.9 x 8.2 in. (150 x 210 mm)
Extend Minimum Dimension: 5.9 x 7.5 in. (150 x 190 mm)
Foldable Dimension: 6.29 x 4.3 in. (160 x 110 mm)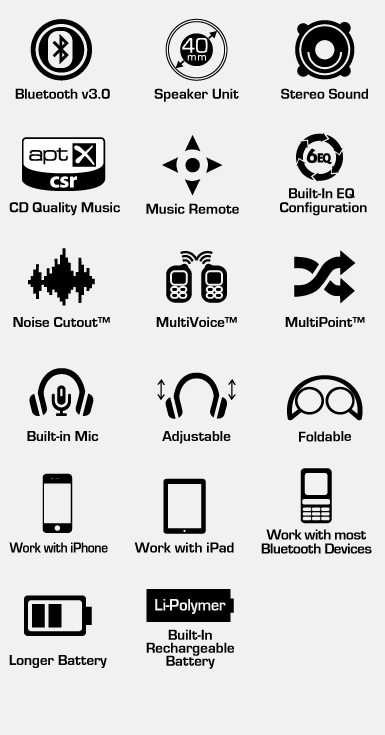 Simply double click on the headphone's answer button to shift from 6 modes of EQ. Default | Pop | Live | Rock | Jazz | Classic

Remote music control on headset: Play, Pause, Stop, Forward and Backward

Constructed with Metal Hinge Joints for Smooth Rotation & Countless Folding.

Superior Sheet Metal Housing Avoids Deformation & Provides Strength and Durability during Travel.

Premium Headband Featured Optimal "Eco-care Silicon" Achieves New-style and Durability.
■ Faster Data Transfer Rate
Users with Bluetooth v3.0 can listen to music more smoothly due to faster data transfer, less data loss and low latency.
■ Supreme Audio
Supreme audio enhancement equipped with high-definition stereo sound & enriched powerful bass.
■ Built-In EQ Configuration
Simply double click on the headphone's answer button to shift from 6 modes of EQ. Default | Pop | Live | Rock | Jazz | Classic
■ Remote Music Control
Play, Pause, Stop, Volume Up/Down, Previous/Next Track
■ MultiVoice™
Connects up to 2 Bluetooth&reg devices (mobiles) at the same time
■ MultiPoint™
Connect up to 2 Bluetooth&reg devices at the same time, both HFP and A2DP connection.
■ Noise Cutout™ Technology
Wind Noise Reduction with CSR CVC Technology
■ HD Voice Ready
HFP v1.6 wideband speech enhances the vocal communication quality
■ Smart Power Management Technology
Bluetooth apply Smart Power Management Technology which enables less power consumption and longer battery life for use.
■ Foldable Design
Foldable Design makes BH-860 a real portable Bluerooth headphone.
| | |
| --- | --- |
| Bluetooth Version | v3.0 |
| Bluetooth Profile | HSP, HFP, A2DP, AVRCP |
| Operation Range | Up to 10 m/33 ft |
| Signal to Noise Ratio | >60dB |
| Frequency Response | 20 Hz-20KHz |
| Distortion | < 3 % |
| Battery | Li-Polymer, 3.7v, 400mAh |
| Charging Voltage | 5 V |
| Play Time | Up to 24 hr |
| Charge Time | 4 hr |
| Compatibility | All Bluetooth versions |
★★★★★

May 15 , 2015

Starlight

3 / 3

found this review helpful

I don't get where people are coming from with their complaints. I bought this headset after browsing through a LOT of cheap but efficient enough headphones. I had small expectations for this headphones but ended up feeling great about my purchase. The sounds are decent enough, better than most bluetooth headphones do anyway. The connection to the phone is easy and simple. Hooking it to my devices is smooth and without a hitch. But I love most however is the silicon they used. The texture of the headphone makes it feel and look premium, not a cheapo product. It is definitely worth more than it lets on. I can only hope that the g-cub company start selling ear pads for this headset because I plan to use it for a long time and all earpads wear off with time. Again, great quality product. Good for listening to during workouts and travel. The battery life surprisingly held true. I've had these for three months and the battery never drained out on me. Amazing. :)

★★★★★

Mar 06 , 2015

Galaxy Mega

1 / 2 found this review helpful

Is very, very good

★★★★★

Mar 04 , 2014

Borris

3 / 4 found this review helpful

No sound if a use with my Motorola XT720 and my dell XPS dont see it.

★★★★★

Nov 29 , 2013

bright

3 / 3 found this review helpful

Is there a way to ger the sound play well too much echo and is very bad I thought I was buying something that sound goood but the sound is very poor am very very disappointed

★★★★★

Sep 06 , 2013

cdz2013

2 / 4 found this review helpful

Es increíble lo bien que suenan, a un precio muy razonable !!!!

★★★★☆

Jul 26 , 2013

KnowsSomethingThatJonSnowDoesn't

1 / 1 found this review helpful

fmesiano you sir are a moron you say its bad yet you give it 5 stars, mixed signals buddy.

★★★☆☆

Jun 07 , 2013

Robert

4 / 4 found this review helpful

BT 3,0 features are great, connecting the Macbook pro and the samsung S3 phone at the same time is a must !! An incoming call mutes the music coming from the notebook. Design is fine, I would like something more sleek. Build quality is fine, I'm concerned about the cables that goes to the headphone, they seems to be bended too much, when you bend them to put it into the case, and bending a cable several times we know what happens. Sound quality is fair enough, regular, not the best. with a good equalization it will be fine enough, consider this is a BT headphone. I do not like at all it has it own EQ, I would like to have a way to disable it, it messes the EQ settings on the music player software. And enabling and disabling EQ all the time on each device is not comfortable. Think that buit in EQ should be removed. Battery duration is excellent. AS a conclusion I'm happy with it, very good relationship Features/price. I was using it by 2 days, i will update this in the future.

★★★★★

May 14 , 2013

fmesiano

4 / 11 found this review helpful

very bad sound , very metallic sound and poor bass

★★★★★

Oct 16 , 2012

Coach

8 / 10 found this review helpful

Better than BEATS by DRE! Don't buy into the hype-try this product instead if you aren't a brand-whore. The quality and bass is way better!